YS Manufacturing's capabilities include a complete line of machining and manufacturing services for American companies seeking to outsource their projects to a Chinese production facility.
With experienced U.S.-based management personnel and artisan China-based machinists, we manage every aspect of your venture, including document and project management, communication, production and finishing services, and quality control. We regularly work with the medical, industrial, aerospace and robotics industries. We can machine components up to 1,000 mm x 600 mm x 600 mm (approximately 24\" x 24" x 39\"), with a tolerance to ±0.00015". Our machining capabilities include:
CNC Routers

CNC Milling
CNC Turning
Grinding
EDM
Difficult-to-Machine Materials
We specialize in working with challenging materials, including pure and alloy forms of:
Tungsten
Molybdenum
Titanium
Zirconium
Nickel
Hafnium
Tantalum
Niobium
Stainless Steel
Brass
Copper
Aluminum
Lead
We can work with each of those materials in the following forms: Foil (up to 0.1 mm x 1,000 mm x 400 mm with a tolerance of 0.01mm)
Plate
Sheet
Rod
Bar
Wire
Target
Tube
High-Quality, Low-Volume Casting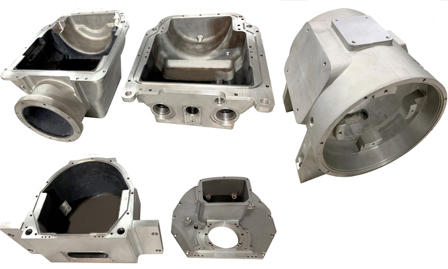 In addition to our machining capabilities, we also have specialized high-quality, low-volume casting capabilities. Through our local Dongguan sister company, we offer several casting services, including:
Gravity Casting
Low-Pressure Casting
Sand Core Casting
We can cast aluminum, brass, iron, lead and stainless steel to a maximum size of 2500 mm x 2500 mm x 800 mm with a casting tolerance to ±0.5 mm/inch.
Custom Finishing Services
Thanks to our unique relationships with local Dongguan artisans and machine shops, YS Manufacturing offers a wide variety of auxiliary and finishing services, including:
Blasting
Anodizing
Welding

CMMs for Quality Control

Brazing
Lead Lining
Painting
Plating
Assembling
Dedicated Quality Control
Quality control is a top priority at YS Manufacturing. That is why we maintain three complete CMM inspection units with a maximum size of 1,500 mm x 1,500 mm x 1,500 mm with best tolerances of 0.0002 mm (0.000015"). We even offer the use of our portable CMM inspection unit at any plant in China for those clients that have any concerns related to jobs not currently being managed by us! To learn more about our machining, casting and manufacturing capabilities, contact us at 610.444.4832.